Member in good standing with:


Contact:
Harriet McCord
(210) 685-2347 Cell
hhmccord@wcc.net



Nick's Double was laid to rest May 23rd 2007 due to complications of old age. He was a AQHA Superior Western Pleasure Horse with 103 AQHA Performance Points. He was also syndicated for 1.5 Million. Nick was dearly loved and is missed even more. He was a grand Stallion who always sensed my moods and if I was feeling low he was always ready to wrap his head and neck around me as if to offer support and comfort. He loved to play tunes with straw or wire or anything he could hold in his teeth and stroke playing with it like he was playing a violin. Nick produced a PHBA World Champion Junior Working Cow Horse along with 91 Additional Foals that were registered by this grand ole man with 15 performing currently and claiming their own fame along with this Grand Sire!
"Every single day, every breath I take, every step I make....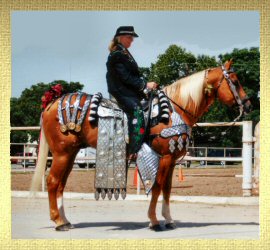 Nick's Double a 1979 Palomino Stallion by Harriet McCord of Block Creek Farm, made a successful return to the show ring after a seventeen year absence. Nick was retired from the show ring at the age of five due to a tail injury. At that time, tail enhancements were not allowed in competitions. This grand old stallion has stood at stud since that time.
At the time of his retirement, Nick had already earned an AQHA Superior Western Pleasure, 103 AQHA Performance Points with 2 ROMs. He also had points in Halter. He has sire one PHBA Champion and a Reserve PHBA World Champion. When the accident occurred, Nick was at the height of his performance.
In the fall of 2001, Nick's owner decided to give him the chance for an encore performance, She entered him in the ST Western Parade Class. The stallion had never worn the elaborate parade equipment, but took to it like a duck takes to water. He seemed to realize where he was and, as soon as he entered the show ring, there was no doubt that he was at home. Performing like the champion he is, Nick placed second behind the current World Champion Senior Parade Horse. Not too bad for a twenty something year old coming off a seventeen year hiatus.
Nick's Double is standing the 2002 breeding season at his home, Block Creek Farm in Comfort, Texas. He is listed in the Alamo Gold and Go for the Gold Stallion Service Auctions. You really should see this grand old man as he reigns over his home turf.

Last Article published about Nick in the Horse Gazette by Harold Rumfield
I Saw You

I saw you getting tired,
And a cure was not to be,
So I put my arms around you
and whispered ,"Time to rest".

With tearful eyes, I watched you suffer
and saw you fade away.
Although I could not bear to lose you,
I could not bid you to stay.

A golden heart stopped beating,
Hard working feet were laid to rest.
And I said goodbye to the very best
My companion, my mighty stead